Company
Artega GmbH is a German manufacturer of electric automobiles based in Delbrück. Artega always has one goal in mind: intelligent mobility of the future.
The starting point of the company's history was the German sports car Artega GT, of which 153 units were produced and which continues to generate a positive response among experts and car enthusiasts. With the current project of the Scalo Elletra T/C sports car and the market launch of the retro city car KARO, the company is opening a new chapter in electric mobility. The "rolling chassis" of this car was presented at IAA in September 2019.
The company is owned by the Frers family; CEO Klaus Dieter Frers has been working successfully in the automotive supply industry for over 30 years. His wife Brigitte takes care of administration and finances.
Artega continues a tradition in electromobility. Klaus Dieter Frers is the great-great-great-grandson of the inventor of the electric car, Christopher Becker. In 1835, he developed a vehicle powered by an electric motor, which today is considered the first step towards the electric car.


Management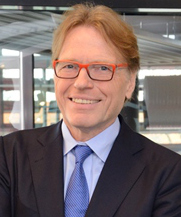 Klaus Dieter Frers
Founder, Owner and CEO
After he graduated with a degree in mechanical engineering Klaus Dieter Frers worked for AEG-Telefunken in Frankfurt/Main and Seligenstadt in several different positions. From 1983 to 1987 he was in charge of Nixdorf Computer AG's electronics manufacturing plant as production manager. In 1988 Mr. Frers founded paragon electronic GmbH and in 1999 paragon AG, in which paragon electronic GmbH merged after going public on the German Stock exchange. Mr. Frers received numerous awards for his entrepreneurial activities. In 2000 he was dignified with the "Oskar des Mittelstands", a highly respected German award for medium-sized enterprises of the Oskar-Patzelt-Foundation. In 2006 Mr. Frers received the nomination as "Entrepreneur of the Year" by Ernst & Young, as well as the distinction as "Premier" of the Oskar-Patzelt-Foundation. In 2010 he received the "Kunststoff-Oscar" by the Society of Plastic Engineers (SPE) Europe for the innovative Belt-Mic.
Mr. Frers started the history of the automotive brand Artega with the presentation of the Artega GT at the Geneva Motor Show in 2007. Right from the outset, the Artega vehicles served as a business card for the paragon Group. The launch of the all-electric vehicle - Artega Scalo - at the International Motor Show (IAA) 2015 in Frankfurt / Main saw a revival of the brand take place.
Mr. Frers, as managing director of Artega GmbH, is responsible for business strategy and development, production, finance, and human resources.