ARTEGA KARO
PROBABLY THE CLASSIC'S MOST GORGEOUS RENDITION
The iconic 50s bubble car is back! Faster, nicer and and electric. The economic miracle is repeated in the 20s of the new millennium. The classic's electric remake is made in Germany: 100% climate-neutral and with a good conscience. That's all you need!
KARO - Experience urban mobility that combines Italian chic and German engineering
Design your desired configuration and send it to sales(at)artega.de with your billing address.
(As of now, only German pre-orders can be taken)
NEWS
Get the latest KARO-News
Artega KARO - for your daily driving pleasure!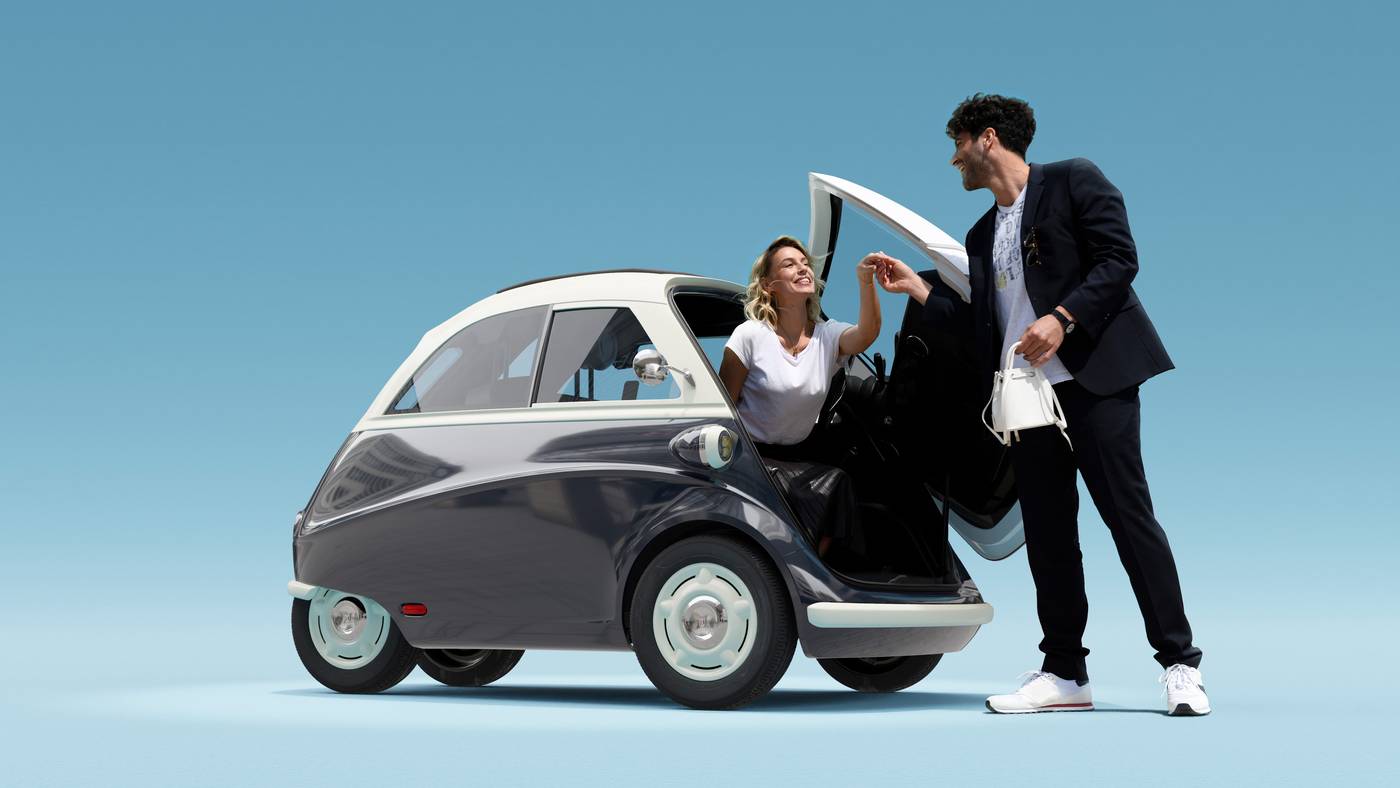 Small Car with Great Range
Equipped with the standard Range battery, your KARO Edition travels up to 125 kilometers. Upgrade to the Range Plus battery to extend your range up to 200 kilometers and enjoy a 100% emission-free driving pleasure with a clear conscience. The KARO meets your requirements either as an ideal first or second vehicle: whether for shopping around the corner or the non-stop ride to the nearest city.
It's the inner space that counts
Despite its small appearance, the two-seater KARO offers comfortable space for two grown-ups and their luggae: with its trunk volume of 300 liters and a maximum payload of 200 kilograms, the KARO handles (almost) every shopping trip. And if you happen to still have space left, open the soft top and let the sun ride with you!
Conquereress of Parking Space
Problems finding a spot? That's a thing of the past. Thanks to its space-saving shape, the KARO breaks with all the inconveniences of a traditional side door: With a width of less than 1,5 meters and less than 2,5 meters in length, the KARO conquers every little parking space! The easy entry and exit through the car's front door even enables cross-parking in the direction of the sidewalk.
Tiny and Quick
The KARO accelerates to 50 km/h in about 5 seconds and thus enables agile mobility in urban as well as rural traffic. With a top speed of 90 km/h it is even faster that its historical predecessor! That's a pole position at every traffic light.With its sprinter qualities, the KARO winds quickly and nibly through every hopeless pile-up.
Ordering your KARO
Germany-wide orders now possible
The first trims Intro and Edition can now be individually configured and ordered through our in-house sales department. In time for the 2021 convertible season, we also offer you the opportunity to test the KARO in our headquarters in Delbrück, North-Rhine-Westphalia.
For ordering, forward your preferred KARO configuration to sales(at)artega.de or contact us via +49 (0) 5250 938 31-886. We're there for you on weekdays from 9AM to 4PM. You can also book an appointment with us on site.
A deposit of 2.500 Euro is required for your pre-order. This is protected against loss by the renowned German R+V insurance company.
As soon as the production window for your vehicle opens, we'll notify you and convert your pre-order into a binding motor vehicle purchase agreement.
We'll keep you updated on about the time of the start of deliveries and test drives. In the next section you'll find the most frequently asked questions.


Frequently asked questions
When can I place my order for a KARO?
You can now pre-order your KARO!
How can I order my KARO?
Navigate to the top of the page and configure your desired trim. Forward your downloaded exposé to sales(at)artega.de whereupon we'll reply with a pre-order agreement.
Feel free to contact our sales team via +49 (0) 5250 938 31-886 weekdays 9AM-4PM CET.
Is a down payment required when placing an order?
Yes, after placing your order, a deposit of 2.500 EUR must be wired to our account within 7 days. This deposit is protected against loss by the renowned German R+V insurance company.
Where and when can i test drive the KARO?
Of course, we'll keep you updated about this as soon as possible. If you're interest in a test drive, please register at https://artega.de/de/contact/
A sales representative will reach out to you.
We plan on offering local test drives from our headquarters in Delbrück starting 2021. We'll update you on the exact start date as soon a spossible. After expanding the dealer and service network in 2021, you'll be able to sign up for a test drive in your region.
What driving license is required to drive the KARO?
In order to be able to drive the KARO in public road traffic, a valid driving license of category B (car driver's license) is required in Germany. The KARO is classified as an L7e vehicle. Contact the BMVI for more information.
I am a dealer and would like to include the KARO in my program, who should I contact?
Please get in touch with us via artega.de/de/kontakt/ or email us at dealership(at)artega.de
Our sales department will respond as soon as possible.
What is the expected delivery timeframe for my KARO?
For all first available Intro and Edition trims we expect delivery to begin mid 2021.
What is the maximum payload?
The maximum load is about 200 kilograms (440lbs). This means that you can also transport the amount of a week's groceries in your KARO while riding in pairs.
Will I benefit from any German environmental incentive when buying a KARO?
Since the KARO is a light motor vehicle, it is unfortunately not (yet) considered for the regular environment incentive called Umweltbonus. However, there are already local incentives in some German regions that apply to L7e vehicles: Incentive Programs »
How long is the warranty on a new KARO?
Your new vehicle is protected by the German legal warranty liability of 24 months. In the near future, we'll offer extended service plans.
Where can I get my KARO serviced?
Until we established a nationwide dealer and service network, we'll take care of maintenance in Delbrück.
Is it possible to finance or lease a KARO?
We are currently working with a well-known bank on a classic loan model. For the time being, there will be no leasing options available, as the vehicle is new to the market and cannot be subjected to any residual value assessment. It is expected that the KARO will also be available via subscription models.